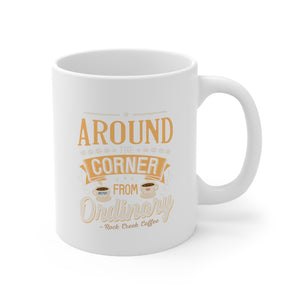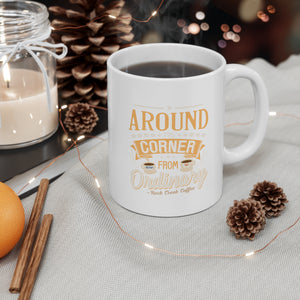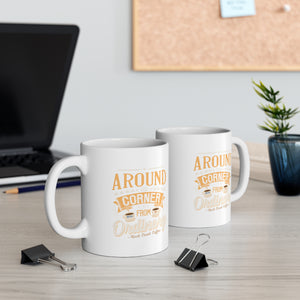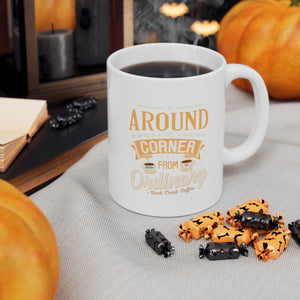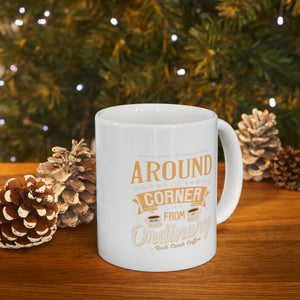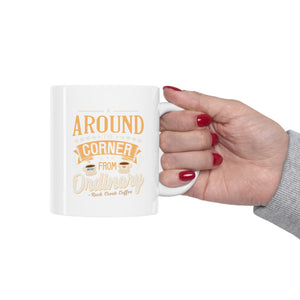 Introducing our 11 oz coffee mug, designed for those who seek to break free from the ordinary. With the inspiring saying "Around the corner from ordinary," this mug is a daily reminder to embrace uniqueness. 
Inspiring and thought-provoking saying: "Around the corner from ordinary" encourages you to step outside of your comfort zone and embrace a life of adventure.
Premium ceramic material: Crafted from high-quality ceramic, this mug offers durability and ensures your favorite beverages stay at the perfect temperature.
Perfect size: With an 11 oz capacity, it provides just the right amount of coffee to kickstart your day or enjoy a relaxing evening drink.
Comfortable grip: The ergonomic handle offers a secure and comfortable hold, making each sip a delight.
Versatile use: Whether at home, in the office, or on the go, this mug is suitable for all your beverage needs.
Easy to clean: The mug is dishwasher safe, allowing for effortless cleanup.
Unique gift option: Surprise your loved ones with this inspiring mug, reminding them to embrace their individuality.
Express your personality: Let your mug reflect your spirit of adventure and desire to stand out from the crowd.
Embrace a life of excitement and leave the ordinary behind with our "Around the corner from ordinary" coffee mug. Order yours today and enjoy every sip as you embark on your unique journey.