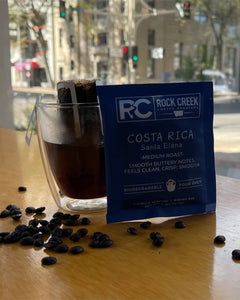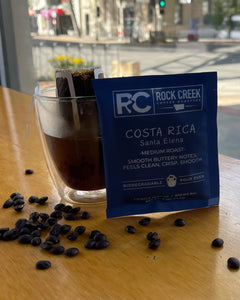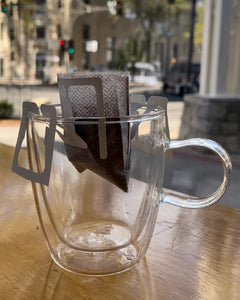 Elevate Your Coffee Experience
**Price: $22 for a 8-pack + Shipping**
The Coffee Connoisseur's Choice
Introducing our best-selling coffee, the Costa Rica Santa Elena, now available in convenient Rock Creek Coffee Pourta Packs. Crafted for the discerning palate, this medium roast coffee offers a symphony of flavors that will leave you craving for more.
Flavor Profile
Crisp and Clean- A tantalizing burst of citrus to awaken your senses.
Smooth Finish A buttery aftertaste that lingers, making each sip a luxurious experience.
Elegant Sweetness A subtle sweetness that complements the coffee's bright character.
The Journey of the Bean
Our Washed Tarrazú beans are sourced from the single estate of Santa Elena, located in the renowned highlands of Costa Rica, Tarrazú. Harvested between November and February, these beans are a product of meticulous care and expertise.
From Farm to Cup
Shade-Grown The beans grow under the natural canopy, absorbing all the goodness from the soil.
Handpicked Each bean is handpicked and sorted by quality.
Natural Processing The beans undergo a pulped, natural honey process and are sun-dried.
Quality Assurance Rested in parchment for a minimum of 30 days before milling and shipping.
A Sustainable Choice
The Santa Elena Estate growers are committed to a holistic, sustainable approach, employing a water-treatment system that meets Costa Rica's high environmental standards.
Perfect Pairings

Enjoy a rich cup of coffee that pairs wonderfully with a salmon dinner or a dessert like beignets. With every sip, know that you're supporting an environmentally friendly process and a small community of farmers and their families.
Why Choose Rock Creek Coffee Pourta Packs?
We roast our to own high standards and have our small batch roast processed by Pourta to give you all the things you expect from Rock Creek!
Convenience: Pre-measured packs for the perfect brew, every time.

Freshness: Sealed for freshness to capture the full-bodied flavor and aroma.

Sustainability: Eco-friendly packaging that you can feel good about.
Order your Rock Creek Coffee Pourta Packs today and experience coffee like never before!