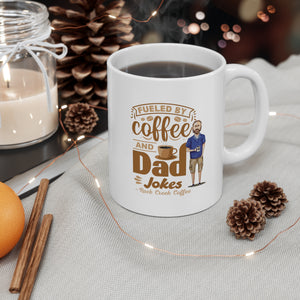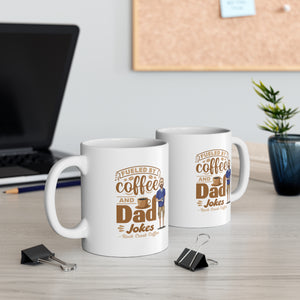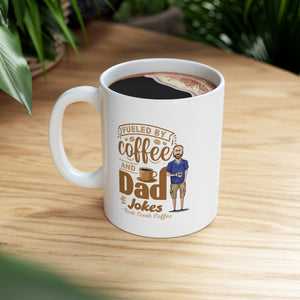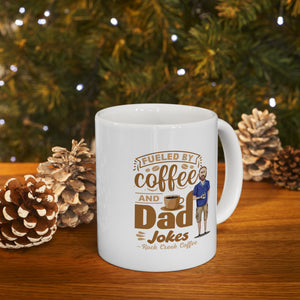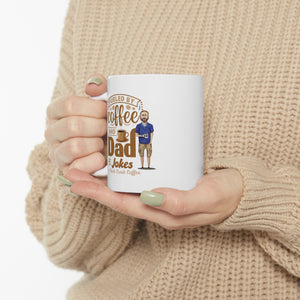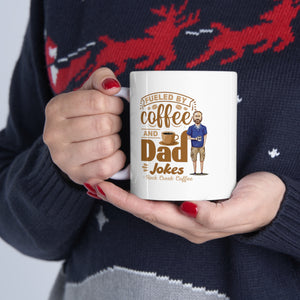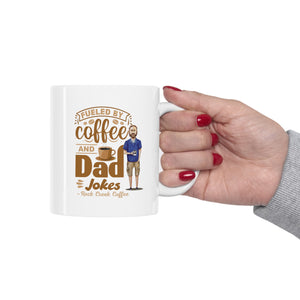 Introducing our 11 oz coffee mug, featuring the humorous saying "Fueled by Coffee and Dad Jokes." This mug is designed to bring laughter and caffeine to your mornings. 
Quirky design: "Fueled by Coffee and Dad Jokes" printed on the front of the mug.
Made with high-quality ceramic material for durability.
Perfect size for enjoying your favorite hot beverages.
Ergonomic handle for a comfortable grip while sipping.
Microwave and dishwasher safe for easy use and cleaning.
Adds a touch of humor to your daily coffee routine.
Makes a great gift for coffee-loving dads with a sense of humor.
Start your day with a smile and a dose of caffeine with this amusing mug.
Fuel your mornings with laughter and coffee with our "Fueled by Coffee and Dad Jokes" coffee mug. It's the perfect companion for coffee enthusiasts who appreciate a good dad joke.
These 11oz (0.33 l) mugs are made with durable white ceramic so that your prints can stand out.

All mugs feature a comfortable c-handle and a shiny finish so that they're both easy to use and great to look at.

Drink confidently on a daily basis as all mugs are lead and BPA-free.